Connecting ports and ships
Ship operation support work is work entrusted to us by port authority for the purpose of
helping ships enter and departure the port safely and efficiently.
Firstly, we collect data regarding both
the planned navigation of
ships and the current situation of the port (Data collection).
Then, we keep track of the actual movement of ships based on this data (Movement tracking).
At this time, we are in contact with ships via VHF radio (Communication).
By unifying all of this work, we are able to provide a safe and convenient service to our users.
Also, as a more detailed service, when
communicating with ships, not only do we communicate
direct information such as berth information for that ship,
we also send the navigational information of other ships, as well as sending information to
other relevant parties and preparing for changes to port reception work
(Navigation arrangement work).
To perform this work accurately and smoothly, we independently developed a database to organize,
store and share data, prepared specialist facilities (international VHF radio, radars, AIS,
monitoring cameras,
high-performance binoculars), and use our experience and know-how 24 hours a day, 365 days a year.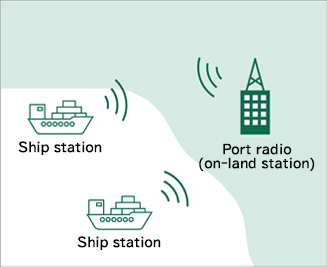 On average, we can communicate with ships approximately 3 hours before port entry.
Via port radio, not only do
we provide port entry schedules,
we also inform the ship of the berthing situation as well as arrangements for pilots,
tugboats and line handlers. Further, to ensure the navigational safety of ships, we inform them of
other ships entering/leaving the port,
other ships in close proximity,
and port construction sites, as necessary.
Also, if there is a conflict between the ship's planned arrival time, obtained through
communications, and the time of work planned on the port side, we make arrangements
between the ship and port sides, and make sure that both sides follow the same schedule.
In addition, we handle water supply and engine repair inquiries,
visibility and weather situation inquiries, and when a member of ship personnel is injured or sick,
we arrange for a doctor or lifeboat, and handle communication in times of emergency.
Port radio communication with ships covers a variety of areas.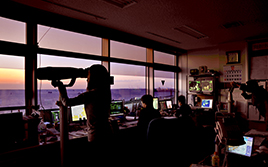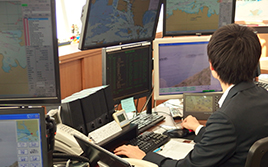 Please contact us here for inquiries regarding work details.
Telephone inquiries
045-510-2340
Reception

9:00 to 17:00
(excluding Saturdays, Sundays and public holidays)
Department in charge

Shipping Information Operation Department