All port arrival/departure schedule for each port in one place.
Our information searching service can be used in all areas,
from ports to marine transport.
PORT WEB is the only web service in Japan
that covers the port arrival/departure schedule of international trading cargo ships.
By accessing the TST Corporation port arrival/departure information database
you can search by not only ship name and port name,
but also various other ways such as berth and ship nationality.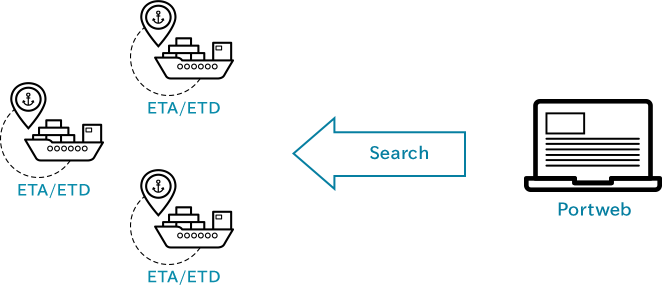 Features/Characteristics
❶ Providing accurate port arrival/departure schedule from all of Japan's main ports
TST Corporation's port arrival/departure schedule is used by shipping companies, port administrators all over Japan and government authorities, certifying its trustworthiness.
❷ Trustworthy port arrival/departure schedule
At TST Corporation, we research port arrival/departure schedule independently. We obtain port arrival/departure schedule from trustworthy sources such as shipping companies, ports, AIS information and visual monitoring.
❸ Detailed data items
The estimated arrival/departure time (ETA/ETD) and actual arrival/departure time (ATA/ATD) are covered at each port. Detailed information including various ship data, such as tonnage, length and draft value, the name of the arrival berth, and shipping agent can also be provided.
❹ Variety of search features
You can easily find the information you are looking for by searching port arrival/departure schedule using a specific port name, ship, quay name, agent name or time period.
❺ Available at a reasonable price
PORT WEB can be used on a per-user basis for 5,000 yen (excluding tax) per month or 30,000 yen (excluding tax) per month, depending on the features required.
Uses
Ocean Freight Forwarding

Shipping Agency Husbanding

Pilot Operation

Port Service Operation

Port Management /
Water Area Monitoring
Merits of Use
Simplification of Information
Collection Work
Work Process Improvement due to Higher Quality Information
Please contact us here for inquiries regarding information services/solutions.
Contact Us (Phone)
045-510-2342
Reception

9:00 to 17:00
(excluding Saturdays, Sundays and public holidays)
Department in charge

Port Data/Information Department