The standard port arrival/departure schedule report
used by many port users.
PORT VIEW is a web service that allows you to download daily reports
that cover port arrival/departure schedule for each port.
Since all information for a port is contained on one report sheet,
you can print it out and keep the information close by at all times.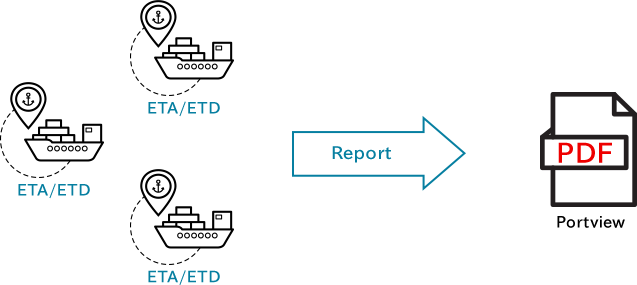 Features/Characteristics
❶ Detailed port arrival/departure schedule from all of Japan's main ports in a compact report
The port arrival/departure schedule of 17 ports in Japan, researched independently by TST Corporation, is issued every day (excluding Saturdays, Sundays, public holidays and New Year's holiday) in an 8-page daily report. TST Corporation's port arrival/departure schedule is used by shipping companies, port administrators all over Japan and government authorities, certifying its trustworthiness.
❷ Covering a ship's current state and future movements
The report contains not only tomorrow's port arrival schedule but also the departure schedule of ships in port, the berthing schedule of ships moored offshore, berth shifting, and the long-term arrival schdeule.
❸ Changes from the previous day can be checked at a glance
The report contains indicators so that changes from the previous day's schedule, such as additional port calls, date changes and port omissions are easily visible.
❹ Downloadable anytime, anywhere
You can download the report at any time by accessing the service website. You can also print it out as necessary. All reports are PDF files which means that you can store older reports on your own PC to use as an archive.
❺ Available at a reasonable price
PORT VIEW reports contain information for 1-2 ports on one page. The monthly fee for one page starts from 4,500 yen (excluding tax) per user.
Uses
Ocean Freight Forwarding

Shipping Agecy Husbanding

Pilot Operation

Port Service Operation

Port Management /
Water Area Monitoring
Merits of use
Simplification of Data Collection Work
Work Process Improvement due to Higher Quality Information
Please contact us here for inquiries regarding information services/solutions.
Contact Us (Phone)
045-510-2342
Reception

9:00 to 17:00
(excluding Saturdays, Sundays and public holidays)
Department in charge

Port Data/Information Department