An ASP service that supports the management and publication of port arrival/departure schedule for regular container ships
The Vessel Schedule Service (VSS) is an ASP service that supports the management of port
arrival/departure schedule for container shipping companies.
We provide a range of online features, including port arrival/departure schedule collection,
all types of data management, and publication of a ship's movements to the cargo owner,
all of which are essential aspects of shipment management for shipping companies.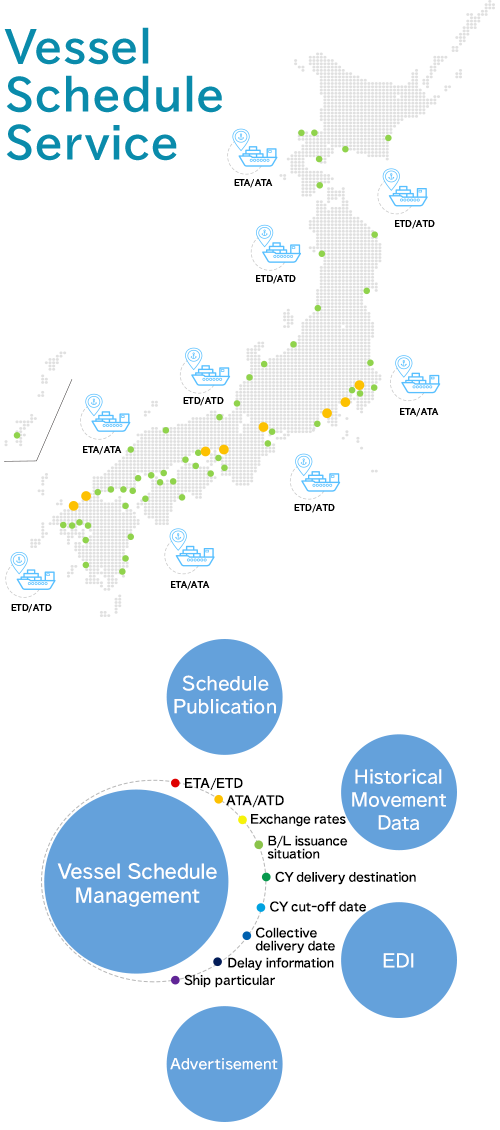 Features/Characteristics
❶ Monitoring port arrival/departure schedule updated every hour, 24 hours a day, for ships operating at Japan's container ports
In combination with our port arrival/departure schedule, you can monitor not only your own ships but also alliance ships, feeder ships etc. operating at Japan's container ports, updated every hour, 24 hours a day. (* Certain smaller ports are not included.)
❷ Central management of information such as exchange rates and CY information from the management screen
On the management dashboard you can collectively manage data including exchange rates, the B/L issuance situation, CY delivery destination information, CY cut-off dates, collective delivery dates, delay information, and the main items of the ship, in addition to port arrival/departure schedule.
❸ Publication of ship's movements to cargo owner also updated every hour
We prepare a schedule publication site for providing related information such as port arrival/departure schedule and exchange rates to cargo owners.
❹ Storage of port arrival/departure record data
All historical port arrival/departure records are stored on our server. You can use this to analyze past operational performance etc.
❺ Support for sending vessel schedule data to external systems (optional)
Port arrival/departure schedule data on the VSS server can be sent to a shipping company's main system and shared as necessary. In addition to the typical CSV format, UN/EDIFACT IFTSAI format data files are supported.
❻ Can be used as an advertising tool for shipping companies
There is a space for advertising to cargo owners on the schedule publication site. You can use this as a PR tool to advertise your services.
❼ Access analysis feature
The schedule publication site has an access analysis feature. You can use this to analyze site usage statistics.
❽ Cloud-based features that don't require maintenance on your side
This system operates on a cloud-based server. You are not required to provide and maintain your own server.
❾ System operation support via our support service
Our specialist team provides system operation support for the port arrival/departure schedule management etc. needs of our customers.
Uses
Shipping Company Operation

Customer Service Operation such as Shipping Document Publication
Merits of use
Visualization of ocean shipping schedules
Labor and cost savings for data collection work
Speedy information sharing with stakeholders
Please contact us here for inquiries regarding information services/solutions.
Contact Us (Phone)
045-510-2342
Reception

9:00 to 17:00
(excluding Saturdays, Sundays and public holidays)
Department in charge

Port Data/Information Department