Real tracking charts with simple operation
This software is a business tool specifically for creating tracking charts.
You can easily make real tracking charts using past logs of AIS data.
Turning objective data into easy-to-understand charts helps with investigating and
analyzing marine accidents, as well as training ship personnel.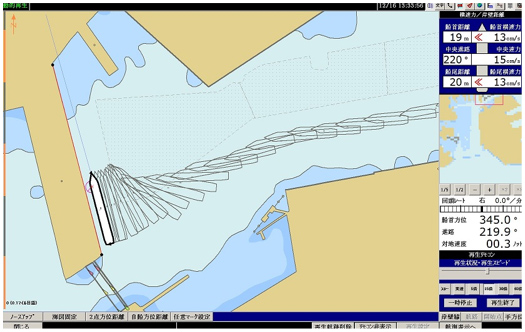 Features/Characteristics
❶ Making AIS tracking charts with simple operation
You are able to load past logs of AIS data into the software with simple operation and draw ship's track onto electronic sea charts without any specialist knowledge.
❷ Ship's attitude transition expressed graphically
Not only does the system position tracking lines, it also shows how the ship's attitude changes using ship heading and antenna position information. This software allows you to recreate objective events from the past.
❸ Sharing information laterally using the screenshot feature
You can output the created tracking chart as an image file. This is useful for other types of work such as attaching the tracking chart to reports or circulating it to relevant parties.
❹ Lateral approach speed display feature (optional)
By using the lateral approach speed display feature, you can check reference information when a ship docks at a port.
※

This software was developed by TODAKA Corporation.

※

AIS data is required to create tracking charts.
Uses
Ship Operation

Ship Management

Safety Management

Pilot Operation
Merits of use
Labor savings for creating tracking charts
Labor savings for analyzing marine accidents and sharing information
Improved training for ship personnel
Please contact us here for inquiries regarding information services/solutions.
Contact Us (Phone)
045-510-2342
Reception

9:00 to 17:00
(excluding Saturdays, Sundays and public holidays)
Department in charge

Port Data/Information Department