Shipfinder
From ship's operational management to tracking surveys
Highly versatile ship tracking system
Shipfinder.com is a web service that provides the information of up to 60,000 AIS-equipped ships worldwide.
On the dashboard of this service you can monitor ships on a live map,
create alerts for when a ship arrives at a port, and use a variety of tools for analyzing historical track data.
This is a highly versatile web service used widely by companies related to marine transport and ports.
(Shipfinder.com is a service developed and provided by Elane Inc.)
Features/Characteristics
? Covering ships from Japan, China, North America, Europe etc. in all major seas and ports
The live position of around 60,000 AIS-equipped ships is covered by receiving AIS data 3 million packets per a day, via the on-land AIS receiving station network and AIS receivers on satellites revolving in low orbit. In particular, around the Japanese and Chinese coastlines, we maintain our own AIS receiving facilities. This allows us to provide stable, high-quality data.
? A perfect monitoring tool for following your fleets.
Ships selected as "My Highlights" (Favorites) by the user are displayed separately to other ships on the live map. There is also an alert tool that sends you and e-mail when a selected ship has arrived at its destination.
? Port/sea area analysis/monitoring tool
You can analyze the navigational situation of ships on the live map by extracting ships in or due to enter a selected port, or by using the target filter feature.
There is also an optional feature that allows you to record and receive alerts when a ship enters or leaves a certain port area.
? Tracking tool
Ship information does not solely consist of "live data". With the standard Shipfinder.com package, you can search historical ship track of last one month and draw them on a live map. As an option, you can also access up to 2 years of historical data and export data to a CSV file.
? API Service
Shipfinder.com provides an API service which enables you to get ship positions and historical tracks directly from the web service and integrate this data into your own applications, such as ship management system, logistics visibility system, and port management system.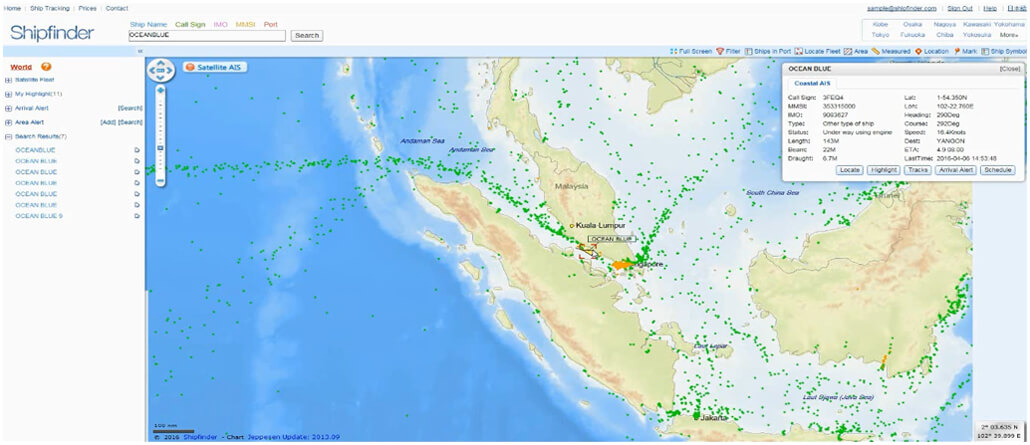 Uses
Ship Operation / Ship Management

Ocean Freight Forwarding

Shipping Agency Husbanding

Pilot Operation

Port Service Operation

Port Management / Water Area Monitoring

Marine Traffic Analysis Survey
Merits of use
Visualization of ship navigation / marine traffic situation
Labor and cost savings for data collection/analysis work
Speedy information sharing with stakeholders
Please contact us here for inquiries regarding information services/solutions.
Contact Us (Phone)
045-510-2342
Reception

9:00 to 17:00
(excluding Saturdays, Sundays and public holidays)
Department in charge

Port Data/Information Department