Supporting marine transport and port operation
in the digitalized era
Since the establishment of TST Corporation in 1932,
we have kept track of the movement of ships and reported the arrival of ships to
port administrators and traders all over Japan via "daily shipping reports" (newspaper) and via phone.
Three quarters of a century later, we are now in an era where
we can remotely monitor in real time the movement and state of various objects containing sensors,
all connected over the internet.
The marine transport and trade industry, with its long history, is no exception.
Digitalization is proceeding at a fast pace,
and we are now in an era where the transportation state of freight
and the location data of the thousands of ships sailing all over the world is collected in servers
and used to manage the supply chains of marine transport businesses and global companies.
At TST Corporation, we prepare the ship movement data
that is essential for marine transport and port systems in the digital age.
We operate online services that provide arrival/departure schedule data for each port,
and constantly changing navigational data for ships all over the world.
We also store over 10 years worth of a ship's port call history and historical track data,
and by combining it with our extensive archive, we can meet our customers' analysis needs.
Search by objective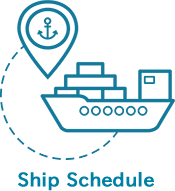 Our products can help customers who are interested in ;
- checking ship's expected arrival and departure times (ETA/ETD)
- checking ship's berthing location.
- checking whether your ship has already sailed.
We collect port arrival/departure schedule information using
our own network system for approximately 70 ports across Japan.
Many private and public organizations connected to international
distribution and ports use our web-based and data distribution services.
Our products satisfy your business efficiency needs by meeting requests
such as simplifying the checking of vast amount of shipment schedules by incorporating
our vessel schedule data into your own information system.
See here for services related to researching a ship's port arrival/departure schedule.
Please contact us here.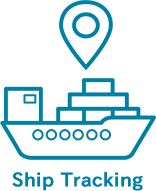 This is a way of keeping track of a ship's navigational situation.
Previously the main method used was the position report sent from the ship a few times a day,
but nowadays you can visualize a ship's position and historical track
in real time using AIS data sent from the ship.
At TST Corporation, we provide a web service
that globally monitors a ship's navigational situation on a live map,
and a live AIS data sending service for use in the information systems of our customers.
These services are used widely by organizations related to
port operation such as worldwide shipping companies, shipping agents, pilots and port services.
They are also used in other industry types
including companies related to port construction and port authorities.
See here for services related to tracking ships in real time.
Please contact us here.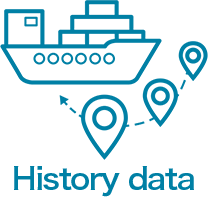 Our products can help customers who are interested in ;
- researching ships that entered and left a certain port in the last year.
- analyzing the navigational situation and the density of ships travelling through a certain area.
- researching the cause of accidents such as collisiions and groundings.
- researching port calling history of a certain ship.
To meet the above requests, we at TST Corporation store
the port call histories of all main ports in Japan for over 10 years (port arrival/departure records),
and detailed tracking data sent from AIS-equipped ships off the coast of Japan (AIS data).
We create data to match the conditions requested by our customers.
The service is used widely by port consultants, research organizations,
insurance companies, surveyors, law firms, ship companies, and pilot's associations.
See here for services related to researching a ship's historical ship's operation and tracks.
Please contact us here.
Please contact us here for inquiries regarding information services/solutions.
Contact Us (Phone)
045-510-2342
Reception

9:00 to 17:00
(excluding Saturdays, Sundays and public holidays)
Department in charge

Port Data/Information Department